The 2021 Caring for our Watersheds Final Competition will be hosted virtually, with a mix of live and pre-recorded presentations. Join us from 6:00pm-8:30pm on Saturday April 24th to cheer on our student finalists. Register here to get the link.
Ten student groups from across central and northern Alberta have been selected as finalists.  These groups of 1-4 students will present their idea answering the question "What can I do to improve my watershed"?
Their final 5 minute presentation to a panel of judges will be recorded earlier in the week, then live-streamed at the event. After the presentations we will share final results and conduct an award ceremony, providing gifts and recognition to the groups.
The 2021 Finalists are: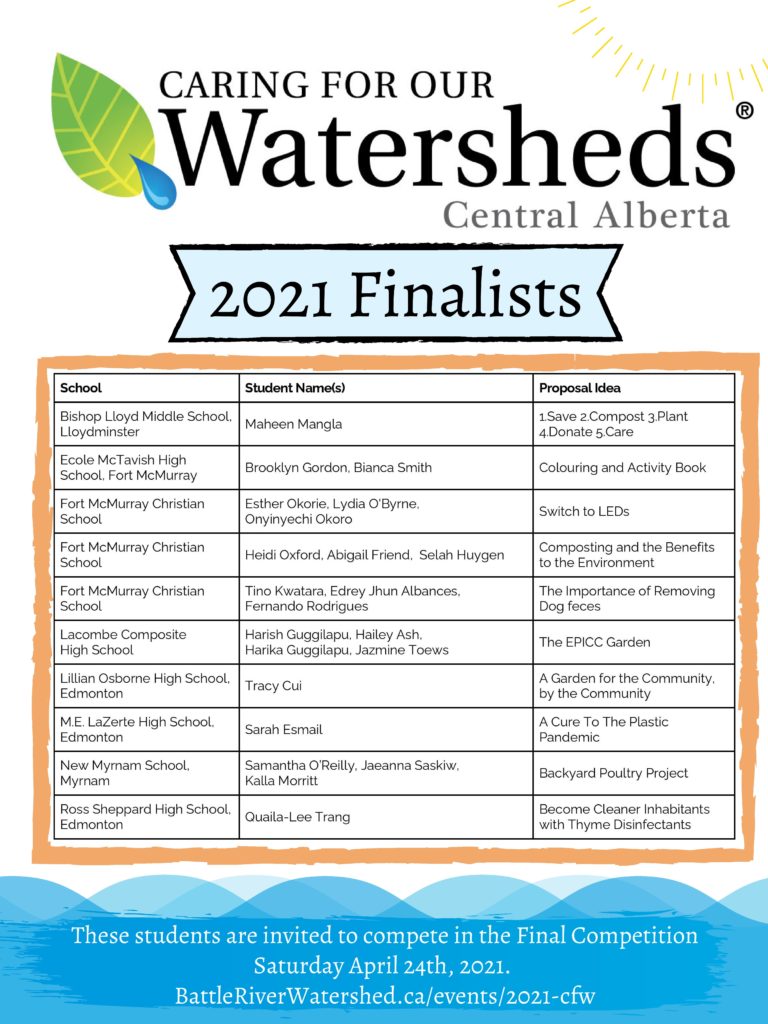 Like everything, our contest has been impacted by the COVID-19 pandemic. But the show must go on!  We are working hard to create a fun and rewarding Final Competition for the student finalists and their families and friends.
Prizes
All students who attend the Final Competition will be receiving a prize award! Groups will divide the prize equally. A matching prize amount will also be giving to the student's school!

Want to attend? Get a Free ticket on our Eventbrite Page!
STUDENT FINALIST?
Be sure to confirm you are attending! Register here.
Review the Verbal Judging Guide to see what the judges will be marking you on!
Watch (or re-watch) The What to Expect Webinar
And don't forget to send in this Waiver Form, signed by your parent/guardian!
Want to learn more?
Check out our Caring for our Watersheds program page.