Board of directors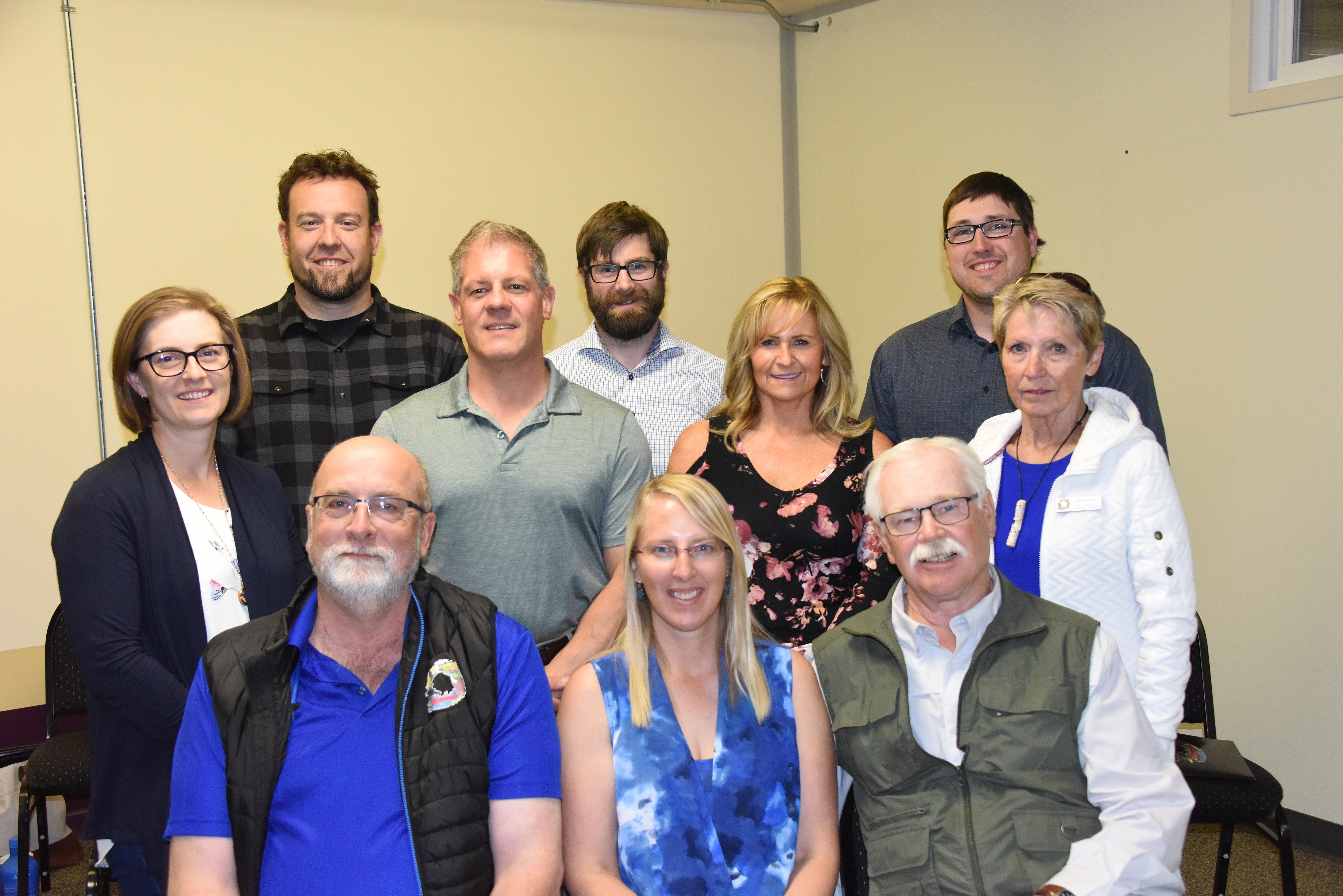 2019/2020 Board of Directors in attendance at the Annual General Meeting.
Back (L to R): Preston Weran, Greg King, Ryley Andersen
Middle: Melissa Orr-Langner, Jamie Bruha, Corinne Kelts, Diane Hanson
Front: Al Corbett, Barb Bosh, Lorne Ferguson
Academia
Greg King, University of Alberta-Augustana. Contact: gking@ualberta.ca
Greg grew up in Cole Harbour, Nova Scotia, but is currently putting down roots in Camrose. He completed his B.Sc. in Environmental Science and an M.Sc. in Geography at Carleton University, establishing a love for northern forest ecology which lead him to complete his Ph.D. on tree growth dynamics in Switzerland. He has taught at Mount Allison University in New Brunswick, and Queen's University in Ontario. In January 2018 he started as an Assistant Professor of Environmental Science at University of Alberta – Augustana campus. He continues his research of northern climates and vegetation, recently completing a 5 week canoe -based field expedition in the arctic, and more locally, studying the growth and health of Camrose's urban forest.
Outside of his teaching and research work, you might find Greg with his partner and son in the backyard garden, or getting active on the ski trails, paddling a river, or playing ultimate frisbee.
Agriculture
Khalil Ahmed, Battle River Research Group. Contact: manager@battleriverresearch.com
Khalil's key research interests are sustainable agriculture and protecting the environment. He has more than eight years of research experience and holds a PhD in Agriculture and a Diploma in Environmental Sciences from NAIT. Khalil previously worked with SARDA Ag Research as an Environmental Coordinator and then Research Coordinator, often partnering with the Mighty Peace Watershed Alliance. He has also worked in the fertilizer industry in Pakistan, at the Agricultural Institute of Malaysia and at Integrated Crop Research Management Services in Fort-Saskatchewan.
Apart from work he enjoys time with his family, playing cricket and tennis, and watching documentaries and DIY home repair videos on YouTube.
Business/Industry
Barb Bosh, Ashcor Technologies, ATCO. BRWA Chairperson. Contact: barb.bosh@atco.com
Barb has been with ATCO for 25 years and currently is the Senior Quality, Regulatory and Operations Advisor at the new Ashcor Battle River Recycled Ash Management (RAM) Site. She has been involved in the development of many environmental programs while working with ATCO.
Barb has a diploma in Conservation and Reclamation and a Bachelor Degree of Applied Integrated Environmental Management. She has been involved with the BRWA even prior to its inception. Barb has been a BRWA director for many years and has previously held the treasurer position.
Barb was born and raised in the Forestburg area, and now lives near Donalda on a farm with her family. She is involved with community and kids activities including 4H, minor hockey, agricultural societies, and most activities her kids are involved in. She loves the outdoors and enjoys spending time hiking, canoeing, and camping in the Battle River Watershed, and all parts of the province.
Dustin Owens, Heartland Generation. Contact:dustin.owens@heartlandgeneration.com
Dustin currently leads Heartland Generation's public policy and government portfolios. In this role he leads the company's development of public policy positions, and associated advocacy with provincial and federal governments. Dustin previously held senior management positions with Alberta Energy and Alberta Executive Council, focusing on energy markets and natural resource policy. He is a currently the Chair of the Alex Community Health Centre's board of directors. He resides in Calgary.
Environment
Lorne Ferguson, BRWA Board Treasurer
Lorne joined the Camrose Police Service in 1969 and after a successful career retired in 1996. He then spent three seasons as a Park Ranger at Miquelon Lake PP and the next eight years working in the Oil Field Service Industry. Lorne has been a member of Ducks Unlimited for over thirty years acting as Committee Chairman for the Camrose Committee as well for the Ducks Unlimited New Norway Golf Tournament. He also was responsible for the Alberta Ducks Unlimited Art Program for eight years and served 7 years as the president of the Friends of Little Beaver Lake Society.
He and his wife Laurie have two grown children. He likes to spend time in the badlands looking for artifacts, fly fishing and hiking, with his two grandchildren.
Diane Hanson, Alberta Rural Sustainable Alternatives Network. Contact: diane.hanson2602@gmail.com
Diane grew up on a mixed farm north of Viking AB. She feels fortunate to be from a family who respected the interdependence of land, water and humans. She studied agricultural internationally prior to a 20 year career working in adult education and in the natural gas industry.
She is currently working at the Viking Farm – a bio-intensive /organic venture producing fruits, vegetables and grass fed poultry and beef. She is pleased to be part of BRWA and hopes to make a positive difference in our watershed!
First Nations
We're now taking nominations for this position. Contact us for more information.
Individual
Midge Lambert, Landowner
Growing up in Consort, Midge is very familiar with our watersheds. She had spent a number of years stewarding a section of land on the Battle River near Kelsey, but now resides in Camrose. Midge enjoyed an active career catering and cooking, working across western Canada from movie sets to forestry camps. She still loves to cook and has been one of the amazing chefs during the Rolling Down the River cycling tours. Midge is passionate about local politics and rural Alberta and was the Alberta Party candidate for the Battle River-Wainwright constituency in 2013. She continues to work with the Party and encourages everyone to get involved in their local communities.
Al Corbett. BRWA Vice Chairperson. Contact: georgeemerson.consultants@gmail.com
Al currently works with the Drainage Council as their WPAC coordinator in the North Saskatchewan, Battle and Red Deer watersheds. Prior to retirement in 2010, he was the AESRD representative to the Drainage Council and the Water Operations Central-North Region manager for provincially-owned water infrastructure in the northern two-thirds of the province including Dickson Dam, two pumping stations and many other smaller projects. Al's background includes design, construction and operation of water structures for the province over a 33 year period. Al and his wife Landy currently live in Camrose, and have four children and five grandchildren to keep them occupied. Al serves with other groups including the NSWA, the RDRWA, the Camrose Public Library Board and as treasurer for Grace church.
Peter Pullishy, Individual. Contact: ppullishy@gmail.com
Peter Pullishy ,who retired in Wetaskiwin in 2020, had been involved in operating ,and then managing Municipal Drinking Water and Waste Water systems since 1992. During his time operating, then managing the City of Wetaskiwin water and wastewater treatment facilities , he enjoyed interacting with the Battle River Watershed Alliance-in particularly he liked acting as a judge for the Battle River Watershed Alliance youth competitions. Peter still currently enjoys being involved in water and serving as a member of the Board of Directors of the Battle River Watershed Alliance. In his spare time, Peter enjoys spending time with family, flying a small airplane, hiking and reading.
Greg Smith, Individual. Contact: smithcg@telus.net
Greg is originally from Edmonton and after completing a BSc in zoology and BCom in 1977 moved to Vermilion and worked for an agricultural manufacturing company. In 1991 he returned to University and completed his teaching certificate followed by a M Ed in school counselling. After a career as a teacher, school counsellor, and administrator he retired in 2010 and spends time with his grandchildren and volunteers for activities that promote education and environmental conservation. His outdoor passions include archaeology, geology, kayaking, cross country skiing, and hiking.
Municipal Government
Corinne Kelts, Special Areas. Contact: Corinne.Kelts@specialareas.ab.ca
Corinne grew up on a mixed farm south of Consort in the Sedalia area in Special Areas #3. She studied business at Lakeland College in Vermilion prior to her current 33+ year career with the Special Areas Board. She started in admin and steadily moved her way up to Manager and is the Administrator for Special Areas #4 in Consort. Corinne has always had a great interest in agriculture, native prairie and water so is pleased to be a municipal representative member on the BRWA.
Corinne and her husband Bruce farm and ranch west of Consort. They have a daughter who is a teacher and a son who is a Journeyman Millwright working on his second ticket of Machinist. They are proud to have them both remain and work in the Special Areas.
Ryley Andersen, MD of Wainwright. Contact: randersen@mdwainwright.ca
Ryley is currently a elected Councillor with the MD of Wainwright where he is born and raised. After finishing high school Ryley worked with his dad completing road building, then went to Lakeland college completing his Applied degreed in Environmental Management. He worked in the environmental field for 5 years before switching to farming in 2015. Ryley and his wife reside 20 mins Northeast of Wainwirght approximately 2 miles from the Battle River. Ryley and Kamille have 2 daughters and 1 boy. Ryley and Kamille presently own speckle cattle and farm with Kamille's family where they run a mixed cattle and grain operation.
He likes to spend time within the Battle River Watershed, fishing, snowmobiling, and horse back riding with the family
Preston Weran, Town of Blackfalds. Contact: pweran@blackfalds.com
Preston Weran is the Director of Infrastructure and Property Services for the Town of Blackfalds. He started with the Town in 2011 and continues to oversee the Public Works and Planning Department for this thriving community. Preston recently graduated from the Alberta University NACLAAII Program. He is also Certified Technologist with ASET and a Certified Local Government Manager.
He spend his days planning, executing and reporting to the CAO and Council on capital projects and utility functions ensuring alignment with the Municipal Sustainability Plan and budgetary restrictions. He has over 20 years of civil and buildings design experience working with civil and industrial clients in central and northern Alberta. He is passionate about developing systems that conserve, protect and enhance the environment in balance with the many social and economic needs of a growing community. He currently is a technical advisor on the North Red Deer River Water Services Commission and the North Red Deer Regional Wastewater Services Commission.
Preston enjoys being a Director with the Battle River Watershed Board to help spread the story of this important interprovincial watershed and the value of all water as a resource. He is originally from North Battleford, Saskatchewan where as a youth, he spent may hours swimming in the Battle River east of Battleford. He now spends most of his free time with his wife Crystal, his son Declan and daughter Scarlett on family outings camping and boating. He is also currently working towards his Bachelors of General Studies online."
Provincial/

Federal Government
Ex-Officio
Jamie Bruha, Alberta Environment and Parks. Contact: jamie.bruha@gov.ab.ca
Melissa Orr-Langner, Alberta Agriculture. Contact: melissa.orr-langner@gov.ab.ca
Hugh Sanders, Past BRWA Chairperson. Contact: hugh.mindsprings@gmail.com
David Samm, Battle River Watershed Alliance. Contact: david.samm@battleriverwatershed.ca