The Battle River Watershed Alliance (BRWA) is excited to work with the UofA Sustainability Council to hire 2 recent graduates  (or soon-to-be graduates) to work with us on the connections between climate change, the environment, and health. Please see more information about this project in the job description below.
The Adaptation Resilience Training (ART) project
The Adaptation Resilience Training (ART) project aims to deepen understanding of climate change adaptation in Alberta and its
applicability across sectors and professions. Project Assistants, hired by the University of Alberta as part of ART, will gain early
real-world career experience working with skilled professionals on applied adaptation issues. They will also carry out tasks and
activities to support the development of adaptation training as part of the broader ART project. To learn more about the ART
project, and the general job responsibilities of and qualifications for these positions, please visit our website at
https://www.ualberta.ca/sustainability/experiential/adaptation-resilience.html.
About the BRWA
The Battle River Watershed Alliance (BRWA) is the provincially-designated Watershed Planning and Advisory Council for the
Battle River and Sounding Creek watersheds in Alberta. The BRWA aims to lead in watershed engagement, stewardship, and
management. The BRWA is located in a unique prairie-fed watershed in a primarily rural and agricultural area, and endeavours to
engage members of the community in all of the projects they do. For example, in the last few years the BRWA has been hosting
Finding Common Ground projects to increase understanding and discussion about energy and climate change in the region.
The BRWA is a provincial partner in the ECHO Network (Environment, Community, Health Observatory Network). The BRWA is
currently investigating the ways in which environment, community, and public health are interrelated, using the Draft Indicator
Framework shown below. An important aspect of this project is to examine how climate change may impact all of these health
spheres. For more information about the ECHO network and our role in it, visit our
website: https://www.battleriverwatershed.ca/projects/echo/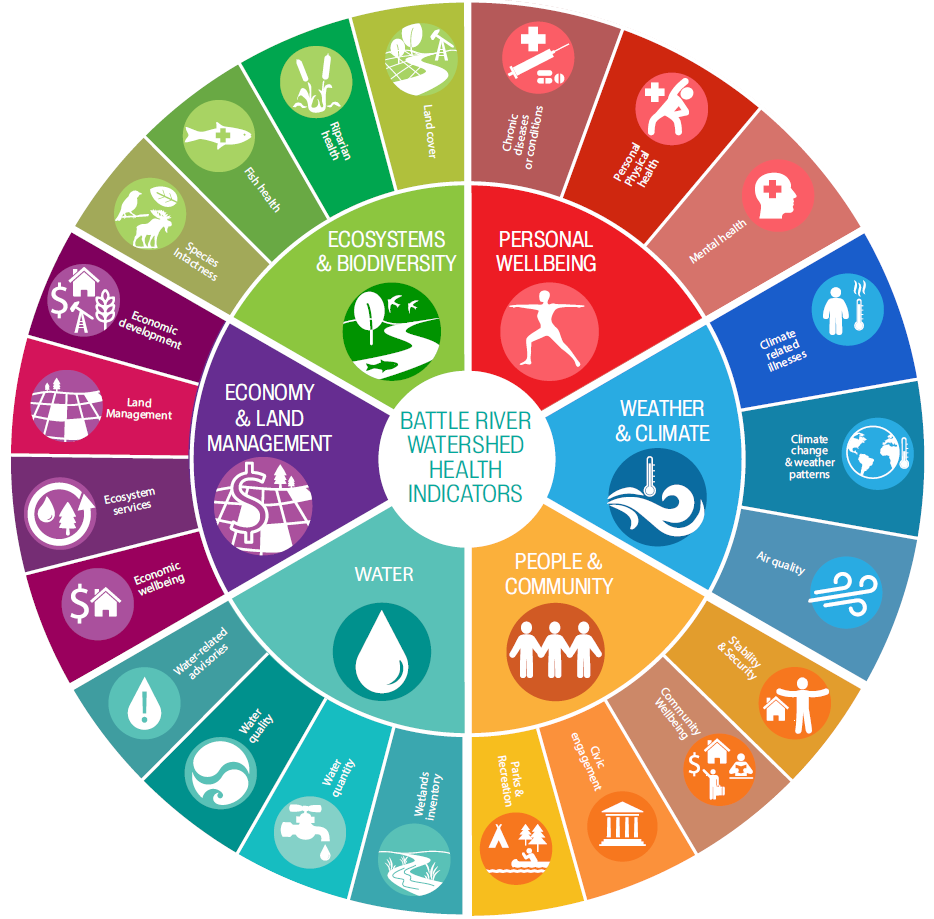 The Project Assistant(s) will work with the BRWA to research and develop recommendations on the connections between health
and climate change for the ECHO Network Project. The major tasks will be to: 1) research the linkages between climate change
and health, 2) support public engagement events related to these topics, and 3) develop resources to support watershed residents,
organizations, and decision-makers in understanding and managing climate change and health-related risks and opportunities. The
Project Assistants will be working on certain indicators from the "Indicator Framework", based on their own interest, abilities, and in
discussion with their supervisor.
Each Project Assistant will be working on either (A) a public health perspective, or (B) a community health perspective, or a mixture
of both. The Public Health perspective (A) will focus on the development of climate adaptation strategies related to public health,
such as personal stress or physical health implications. The Community Health perspective (B) will focus on the development of
climate adaptation strategies related to community health, such as community-wide impacts of drought.
Broadly speaking, the Project Assistant(s) will:
• Review background information on the BRWA, the ECHO Network, and the project.
Assist with the identification and description of relevant climate change and public/community health indicators, and the collection
and analysis of associated data.
•Research linkages between these health indicators and climate change impacts and adaptation strategies. Based on this
information, develop watershed-specific adaptation strategies for relevant stakeholder groups (e.g. residents, municipalities,
agricultural producers).
•Prepare recommendations for how the BRWA can incorporate these adaptation strategies into their watershed management plan and implementation strategy.
•Connect with other organizations conducting similar work in Alberta and identify partnership opportunities, processes for data
sharing, and other synergies.
•Support the synthesis of watershed-specific health, and climate change impacts and adaptation data into public engagement
resources.
•Support planning, coordination and hosting of public engagement events on climate change and health-related topics.
•Participate in BRWA and ECHO Network meetings pertinent to the project.
•Research new watershed management modules including the incorporation of climate change.
•Support BRWA staff with outreach &engagement activities and events.
Other duties as required by BRWA project staff.
Skills and Qualifications
Applicants must be recent graduates or soon-to-be graduates from an accredited Alberta post-secondary institution. Applicants
must have a graduation date within July 1, 2018 – November 30, 2020.
• Demonstrated interest in watershed education, stewardship, and management.
•Desire to conduct research.
•Ability to convey information to the general public.
•Experience and/or interest working with environmental, community, and/or public health indicators and associated data.
•Experience with development and design of public engagement resources.
•Experience with planning, coordinating, and/or hosting public engagement events.
•Willingness to work as a member in a collaborative team.
Other Information
Applicants must be recent graduates or soon-to-be graduates from an accredited Alberta post-secondary institution.
Applicants must have a graduation date within June 2018 – November 2020. Most positions require a degree, but
qualifications vary. Please consult each posting for specifics.
Project Assistants are to complete their work during regular work hours (between 8a.m. and 4:30p.m.), Monday to Friday. They
may work full-time hours (up to 35 hours/week) for a period of 6-8 months, depending on the Host Organization they are placed
with. They will be required to attend an orientation on July 13, 2020, have periodic check-ins and will also be responsible for a final
report on their work at the end of their placement. As applicable, they may need to attend onboarding sessions with their Host
Organization.
Please complete the following form in addition to submitting the application package via electronic upload. Link to
form: https://forms.gle/DCsfA9s4YDkaXwMf6
International students must comply with Canada Immigration &Citizenship regulations.
Only candidates selected for an interview will be contacted.
Position Type: Full Time
Position Term: Temporary
Position Title: Climate Change & Health – Project Assistant
Number of Vacancies: 2
Location: Mirror Lake Centre, Camrose, AB
Position Start Date: August 4, 2020
Position End Date: April 4, 2021
Minimum Education Required: Some Post-Secondary
All Areas of Study: Yes
Application Information
Pleas apply on the UAlberta career centre website: https://campusbridge.ualberta.ca/postings.htm?pId=12560
NOTE: Anyone apart from students must create an account on campusBRIDGE to view the position.
Please note that you must apply for each ART Project position separately. Candidates may apply for a maximum of 3 different
ART Project positions (as of June 8, we have 14 positions posted).
Please ensure you provide a 1-2 page professional resume and cover letter addressing your strengths as a candidate and interest
in the project.
Be prepared to provide references if you are selected for an interview.